Tiger News Update
Your one-stop-shop for tiger news!  21st Century Tiger has rounded up the most important articles and bits of tiger news from across the world.
Woodside Wildlife and Falconry Park, Lincolnshire, rescues two tigers from a German circus, from certain death.   They're settling in nicely by the looks of it on the Woodside Facebook page – and become the first on show tigers in Lincolnshire!
China's tiger parks under fire, the headline from Australian media.  A good article highlighting the blatant flouting of rules against the sale of products containing tiger parts.
(© Reuters)
In India, (via Environmental Investigation Agency) a report into how illegal sand mining poses threat to Katlabodi tigers.
(© India Times, Katlabodi tigress and her three sub-adult cubs seem to be under severe threat from brick kilns on the edge of reserve forest areas in Kalmeshwar range, 35km from Nagpur.)
If you have a bit longer – watch Harrison Ford talking about the importance protecting the forests of Indonesia from the effects of climate change. Harrison was almost deported for his interview with Forestry Minister Zulkifli Hasan.  According to this documentary 86,000 of virgin forest was in tact a decade ago, now only 18,000 hectares is standing despite the forest being lost in what is supposed to be protected National Park.
Sling snare traps set by poachers or even local residents have become a serious threat to wildlife in Sumatra… read about this poor little tigress found snared near a village in Bengkulu.  She had to have her paw amputated to save her from more serious infection.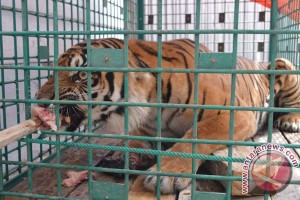 And finally – the only tiger in this two minute film became entirely extinct over 50 years ago.  Regardless I highly recommend you check out the Grant Museum of Zoology. Goes to show how habitat loss is still one of the greatest threats to biodiversity.